As I am typing this I am sitting here with my 12 week old baby girl happily watching me. I did it. I survived the newborn stage, and I feel like I am finally coming out of that new mom fog. The new mom fog that no one really prepares you for. I am in that place where the fog is finally subsiding and I am actually starting to feel like my old self again. Breastfeeding is going great! It doesn't hurt anymore and I am cool with supplementing when I need to. Before I would beat myself up if I had to supplement, or only nursed my babies for a short period. Im ok with what my body can do, and not feeling bad about it.
No matter what needs your baby has, one thing is always the same; Newborn life is hard. It's rewarding and such a sweet time in your babies life, but dang it-it's hard.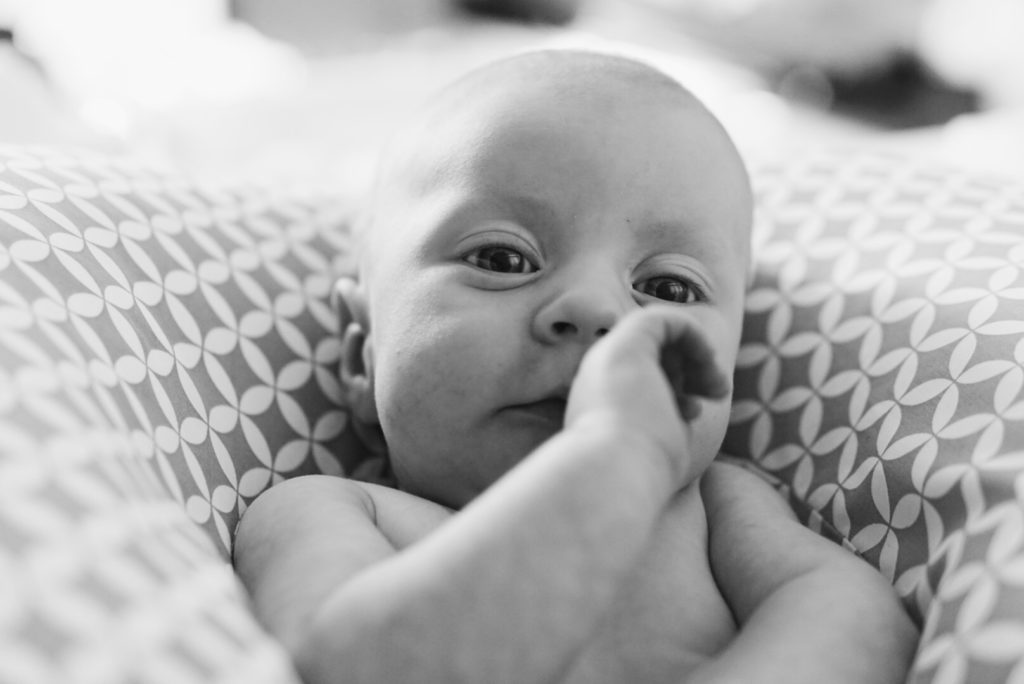 This is my fourth and final baby. I cried on my first night with her as I rocked her to sleep, knowing that this very well is my last baby. My last newborn stage, my last snuggle with a 6 pound babe in my arms. It sure is bittersweet. I felt like I finally had the confidence this time around, and knew exactly what I was doing, what I needed, and how to take care of this little one and myself at the same time. This wasn't my first rodeo, and going into this I knew that I did not need ALL THE THINGS. In the past I typically would go crazy buying all the newborn items retailers had to offer. And with every past baby, I probably used HALF of the items! This time I was set on not going crazy, and buying the things I knew would get the most use.
So here it is, my list of items that are essential to surviving the newborn stage. No fluff, no extra items, just the best things I used everyday. Tried and true by a me, a mom of four.
6 Newborn baby items I can't live without:
1. Owlet Smart Sock 2 = This thing is a dream! I was so nervous to purchase this, and was worried it would be a waste of money. I did not own this with my first three kids, so I was hesitant. It's an expensive item, but after using it the first week the baby was home, I did not regret it one bit. In the past, I would constantly wake while the baby with an overwhelming fear that the baby was not breathing. (Moms you know what I am talking about!). Its a new mom anxiety that will keep you getting good sleep at night when the baby is actually sleeping. This time I was able to sleep with the peace of mind knowing that this sock would alert me if the baby stopped breathing, or her pulse was too low.
It attaches securely to the babies foot and keeps track of their oxygen and heart rate. It will sound off if anything goes amiss. We were lucky and had no serious issues to be alerted to, but I love that it gave me that extra peace of mind at night. I wish I owned this with all of my newborns.
2. Boppy Pillow = The Boppy is a pillow I think most moms will agree is one of the best baby accessories out there. I LOVE the Boppy pillow for so many reasons. Ive owned one for each and everyone of my babies. It makes nursing/bottle feeding a breeze and gives you that extra support you need. Especially during those sleepy middle of the night feedings. It also is a great pillow to prop up your new little babe in when you're doing something around the house but do not want to lay them flat on their back. We use it for tummy time as our babies get older, and even to help support them sitting!
3. 4moms MamaRoo = The Cadillac of all swings and bouncers right here. Another item I am so sad I waited till my fourth baby to get! I love this swing. We kept this in our master bedroom and it was perfect for when I wanted to take a shower and get ready for the day. It has multiple motions to choose from (even a car ride), and you can control it all from an app on your phone! You can also play your own music on it! Our baby loved it! Pro-tip: Get the black one! Baby blowouts are real, and you do not want to stain yours.
4. Fawn Design Diaper Bag = If I had to pick one thing to share that I truly love, this would be it. I cannot get enough of this amazing bag. This is by far my favorite diaper bag I have EVER owned. It is premium vegan leather, high quality, beautiful, and my favorite thing to carry around. I fell in love with Fawn Design over a year ago and now own several different bags from their company. Their bags are impeccable, and well made. I promise that you will not be disappointed. I love the diaper bag because its a bag pack that also doubles as a purse by changing up the straps. It has multiple pockets on the inside, and zippered compartments. I even used the bag as a carry on bag for our trip to Hawaii before baby!
If you use my link HERE directly to their site, you get $20 off your purchase!
5. Gas Drops = Maybe this is a silly thing to make the list, but I wouldn't have survived the first few weeks without gas drops. There were a few times that my husband and I would be up in the middle of the night trying to soothe a crying newborn. Every time we were unable to calm her down, gas drops would save us and she would settle back down. Some people swear by Gripe water, I personally haven't had much success with it. I will always be thankful to these miraculous little bottles of magic. Pro-tip: They work for hiccups too!
6. Mebie Stretch Swaddles = Where do I start? These are the best swaddles I have ever used on a new babe. Our newest baby LOVES to be swaddled. It is the only way she will sleep. With my past babies, muslin swaddles were in and somehow my babies always found a way to escape them. These stretch swaddles are so amazing and SO EASY to use. Even better, my baby cannot escape the swaddle in these. They feel like butter and come in a variety of colors. Mebie even makes cute going home sets that come with a bow/hat, matching swaddle, and mittens. They are the PERFECT gift. Check out their website here for all of their cute clothes and swaddles.
I hope this help!
I really love each and ever one of these items. Without a doubt I could definitely add a few other things to the list, but really narrowed it down to the things I truly love! This list is my hope to inspire you and aid you with things you may need to still get for the upcoming babe, or even your friend thats expecting. Drop a line below with some of your favorite essentials to help new moms out who may be reading this!